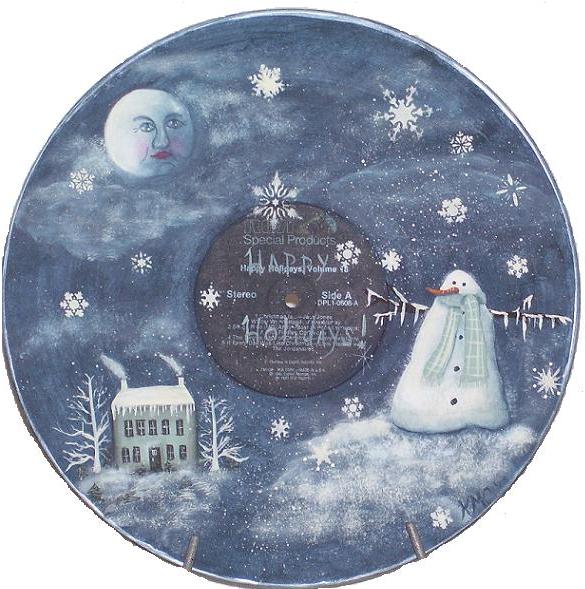 I will be teaching the Winter Wonderland Trio on a Holiday record album. You may choose any surface, round, square, rectangle, or octagon to paint this Chilly Trio. You can make them large or small for whatever surface you choose. This article/project appeared in February 2007 Quick & Easy Painting Magazine (If you don't have a copy of this issue & need a packet, includes color photos & pattern, please email me….no phone calls please…. by August 4th so I can have one ready for you on meeting day. Indicate what size your surface is so I can copy patterns to fit. The cost is $2 to cover printing expenses). This was originally painted by Lynne on small hobnob tin plates but I painted it on a large round paper mache box back in January & thought the possibilities could be endless as to how you can arrange the patterns. That is when I decided to use a Holiday record for my surface. You can find these at most thrift stores. Please seal album with several light coats of Matte Spray, i.e. Krylon 1311 or Liberty, before you paint on it. If you are using another surface such as wood you can just use regular sealer to prep as you normally would.
Surface of your Choice: seal, basecoat 1 coat of Black if surface is not already black, then 2 coats of Antique White & a wash Midnight Blue onto the Antique White area. Dry thoroughly between each wash & do at least 2-3 layers of the Midnight Blue wash. Ratio of water to paint for the washes should be 1:1 & the wash should be transparent. I used a Loew –Cornell Ultra Round 6 to do the wash (but use brush/size you like depending on size of your surface) then use a scruffy brush to pounce in a textured look & blend it together. Make sure scruffy is dry. We will transfer the pattern at the meeting.
Palette is Delta Ceramcoat Paint: Antique White, Black, Black Green, Cactus Green, Cardinal Red, Midnight Blue, Terracotta, & bring along a lighter white of your choice (I used DecoArt Cool White). Sparkling up the snowflakes, snow, & ice is done with Delta Sparkle Glaze &/or Jo Sonja Opal Dust, or any sparkle medium of your choice.
Please bring your usual painting supplies & an assortment of brushes. I used snowflake stencils so bring your own along with a stenciling brush for a quick & easy way to add in your snowflakes.
Plan on having a real coooool time. Traditionally August has very high temperatures & this is our way of chillin' out the heat! Also there will be a few surprises along with this laid back painting project so plan on coming to the August 9th chapter meeting. Please email me at rockycat54@yahoo.com with any questions.
Thank you, Karen Close
Don't lose your cool…..join us for a fun project!!
Return to Home Page