August Program

Sunflower Placemat, Coaster, or Floorcloth

Pattern by D.Whizenhunt

Instructor: Suzanne Mikulka, CDA
This pattern is adaptable to many surfaces. A round tray or lazy susan is especially nice. Suzanne will be using a 16 x 17 piece of pre primed canvas. Feel free to enlarge or reduce pattern.

Home Prep- Please basecoat the whiter side of the canvas with Americana or Delta Antique Gold.

Because the pattern is so large Suzanne will be distributing it at class with instructions and the picture. Priced at $2 to offset her printing costs.

Trace pattern onto surface with black graphite. Do not transfer ladybug at this time.

Palette: Americana-A Delta-D

A or D Antique Gold

A or D Raw Sienna

A Cad Yellow

A or D Burnt Sienna

A Moon Yellow

A Red Violet

A French Vanilla or D Old Parchment

A Lemon Yellow

A Dark Chocolate

A Hauser Medium Green

A or D Red, Black White for ladybug (Optional)


Brushes: Because this is such a large piece, large brushes work best. You will need a large angle or flat, ½ or larger; a large scumbler or deerfoot for tapping; and a large round for blending. Bring what feels comfortable for you.
Return to Home Page
Thank you Suzanne for such a great project. It looks like the group had a lot of fun with this program.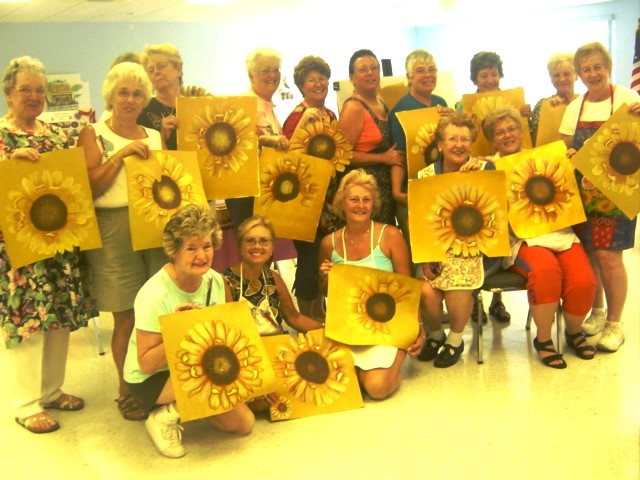 Little Sunflower Song