Paint From Your Heart - February 2005

Painted Suitcases for The Children's Network of Florida

This project will be presented by Donna Bailey
On Feb. 12th at the Cape Coral Moose Club, 11 NE Pine Island Rd.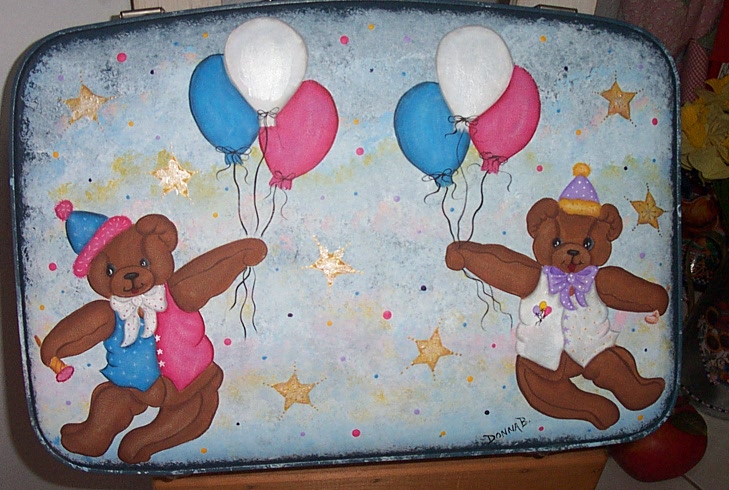 Suitcases are for the foster children in Southwest Florida. These can be new or used, clean, small to medium sized suitcases, either hard side or soft side. If they have any stored odor in them, put a dryer sheet inside to freshen. Program pattern is adapted from Debbie Cole, CDA design "Birthday Bears" featured in Tole World February 2005 We will cover basic techniques of base coating this "unique surface" and shading, highlighting, floating. Preparation before class: Clean the exterior of the suitcase to remove any dirt or grease from the surface. It is only necessary to paint on one side of the suitcase, but if you wish to paint more, seal that also. Thoroughly seal the side of the suitcase with a good quality all-purpose sealer. Optional: Basecoat the surface with a background color of your choice so the design stands out. Trace the design on the suitcase front. You may enlarge or reduce the design to suit. ************************************************************************

Acrylic paints: (Any good quality brand can be used…. these are suggested color combinations. You may change the colors to suit.)

Black

White for balloons, vest, bowtie base coating, gray for shading, any "pearl" white or gleam for highlighting. (I will share some of mine with you)

Browns - Medium for teddy base coating, light tan for highlighting, dark brown for shading

Blues - Medium blue for balloon, vest & Hat base coating, light blue for highlighting, dark blue for shading

Lavender - base coating hat and bowtie, purple for shading and pale lavender for highlight (or white will also highlight)

Pink - Medium Pink for balloons, best & hat fur, dark pink or wine for shading, pale pink for highlighting.

Yellow - base coating stars & hat fur, antique gold for shading and gold for dots and "sparkle"

Brushes: Standard assortment of flats, angles, shaders and liners to suit the size of space you are painting.

Other Supplies: All-purpose Sealer, brush-on varnish, graphite paper, tracing paper, paper towels, pencil or stylus, wax paper palette, water basin, etc.

Finish with a two of brush-on varnish

Patterns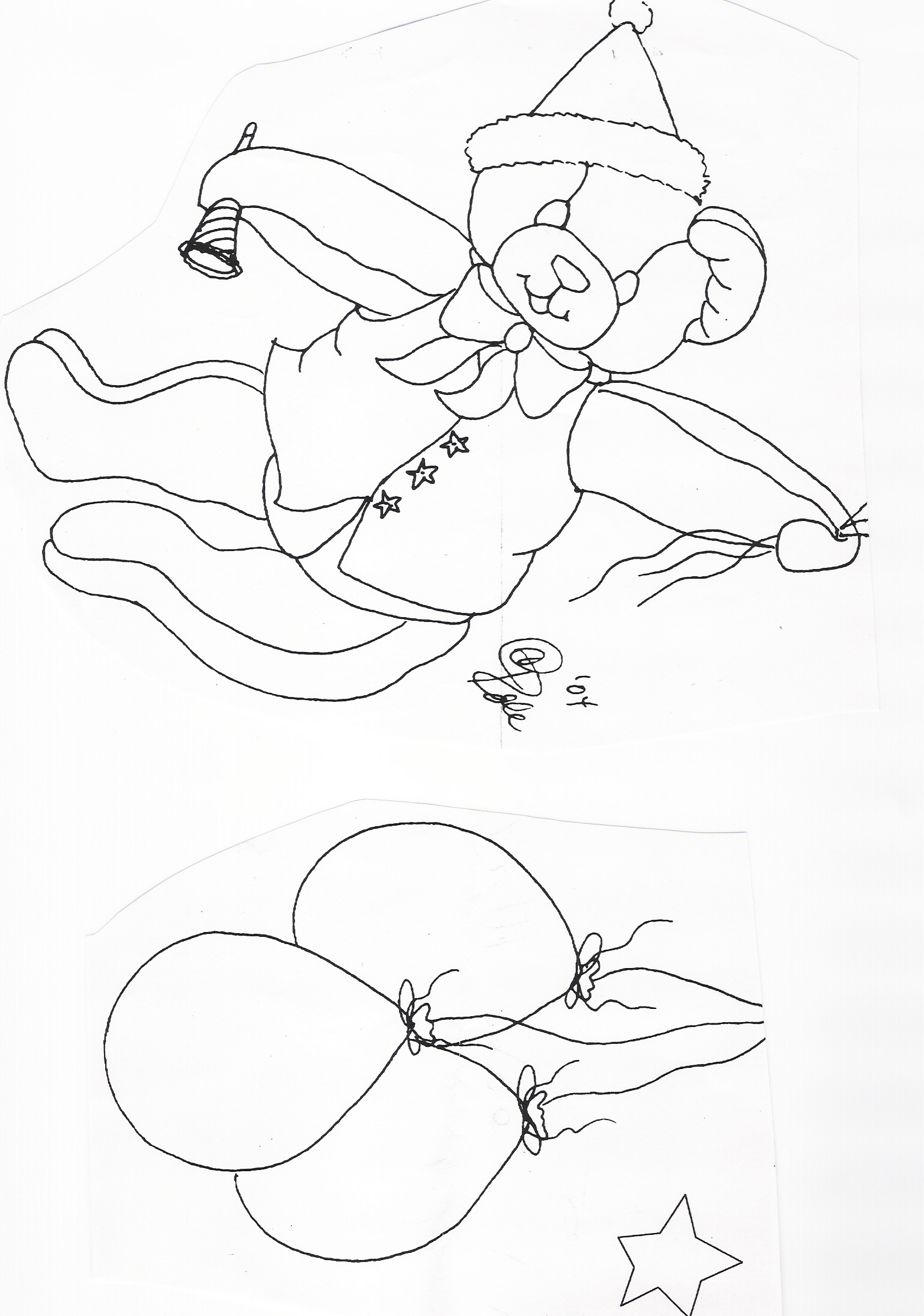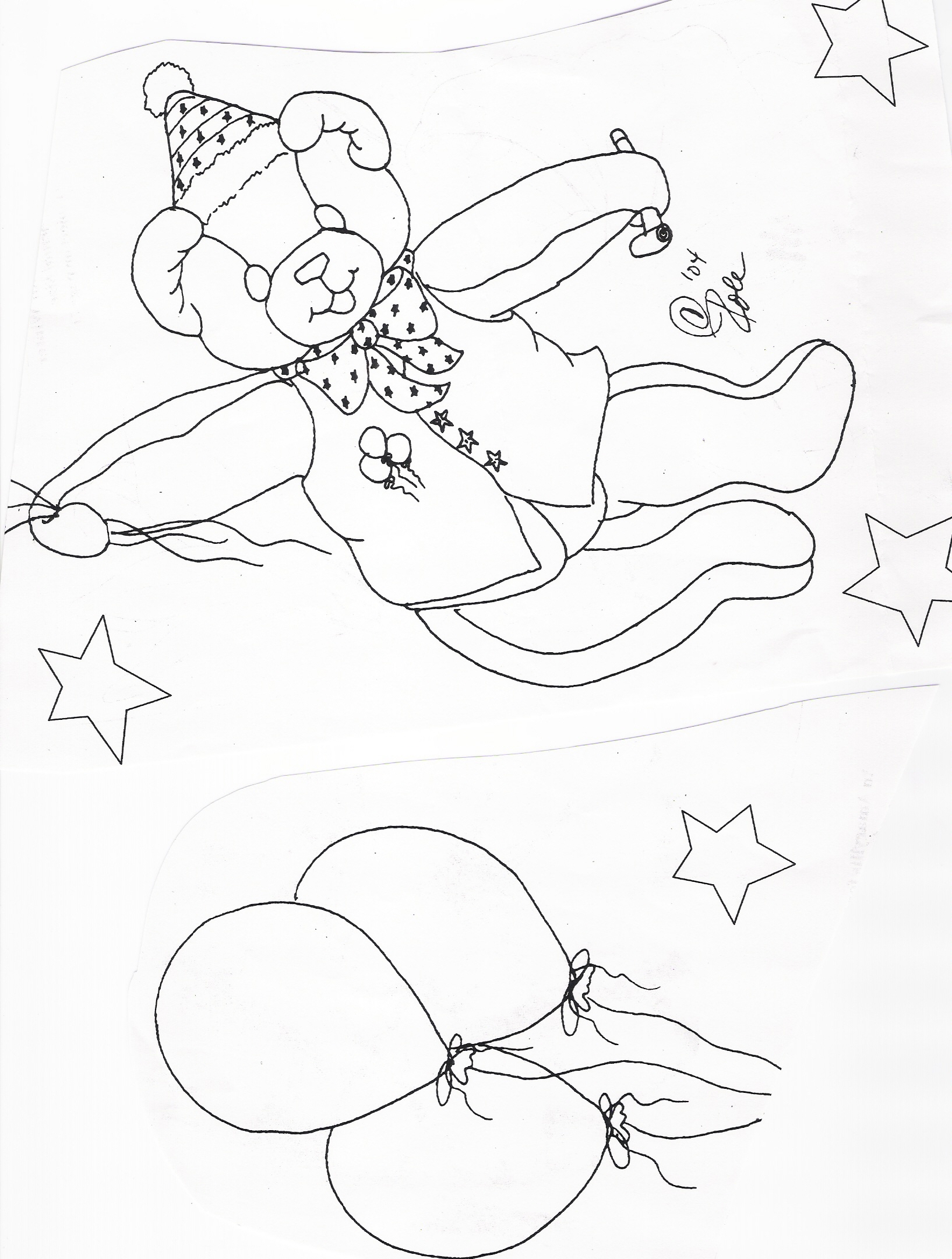 February is also our Membership Appreciation Luncheon. The sign up sheet was passed at January's meeting and it looks like there will be lots of yummy food. Thank you for responding so well ladies. There will also be a Suitcase Design Contest. We ask if you would paint another suitcase or backpack to bring to the meeting. This suitcase will be in a design of your choice with lovely prizes awarded in the following categories.

Pre K, K-5, Pre Teen and Teen

Join in the fun and help The Children's Network of Florida stock of suitcases grow. Remember our theme this month is "Paint From Your Heart". What better way to celebrate this loving time of year then with a gift to a child in need.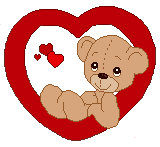 Song...Teddy Bear Picnic
Return to Home Page