Palm Tree/Flamingo Acrylic Project for August 2007
Taught by...Karen Close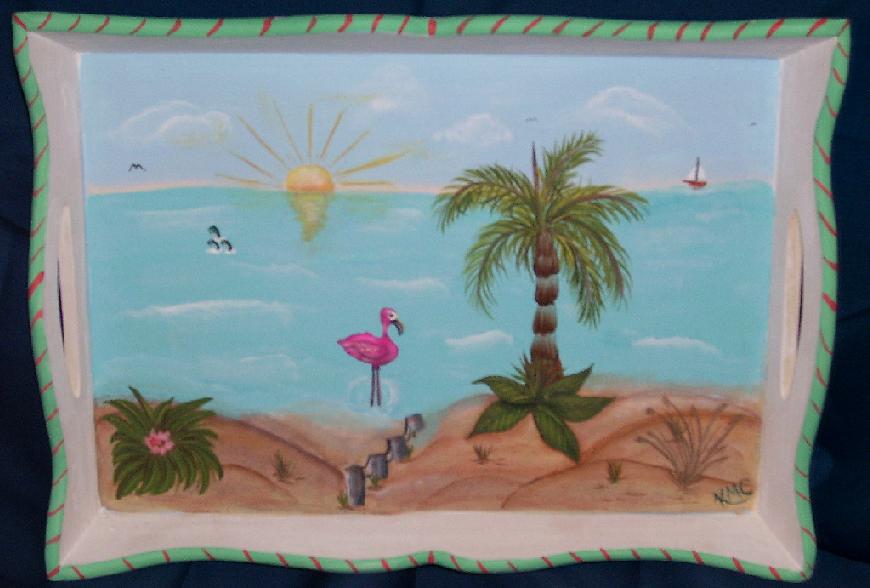 Canvas DASF Membership Directory/Address Book

Or Surface of your choice

This is a fun & easy design for beginners & intermediate levels.


Surface of your choice: Suggestions are a wood tray, lazy susan, canvas, placemat, mail box, clay pot, slate, stepping stone or on the 6" X 9" canvas address book that is featured for this project. Can use any 8" X 11" (landscape) surface also.
Brushes: Flat (#4, ½", 5/8") - Angle Shader (3/8", ½" or whatever size you use for floating) - Filbert (#2 & #4) - Rounds (#2 & #4) - Script Liners 1 & 2 - Liner 10/0, & a stippler, scumbler, or dome brush (whatever you use to dry brush) Just bring what you like to use!
Paint: Americana DecoArt - You will need to bring your own paints. (you can convert to any other brand): White – Black – Sand or Desert Sand - Blue Chiffon (Baby Blue + White) – Calypso Blue – Island Turquoise - Burnt Umber – Khaki Tan – Milk Chocolate – Burnt Sienna – Primary Yellow – Tangerine – Royal Fuchsia – Baby Pink – Hi Lite Flesh – Blush Flesh - Avocado – Olive Green – Black Green
Other supplies: Wet palette or Styrofoam plates - Blue painters tape - Water basin – paper towels – Tracing paper - Graphite paper – stylist or pencil for tracing pattern – small fan brush or old toothbrush for spattering. (Optional sea sponge can be used for clouds so bring 1 if you want to do this method)
Prep your surface: If you wish to have a border on the address book you will want to tape off around the edges & paint the border but that is up to each individual person. Tape off your horizon line & basecoat sky with Blue Chiffon & some white, darkest at top to lighter near horizon line. (You may find it easier to streak your sky by using glazing or floating medium). Be sure to remove tape while paint is wet so you can clean up any problems. When dry you can place tape over horizon line sky & basecoat middle section (water) with Calypso Blue. Again remove tape ASAP. Paint beach/sand areas with Khaki Tan. Transfer pattern onto tracing paper but DO NOT TRANSFER PATTERN onto your surface, as we will be spattering before adding pattern.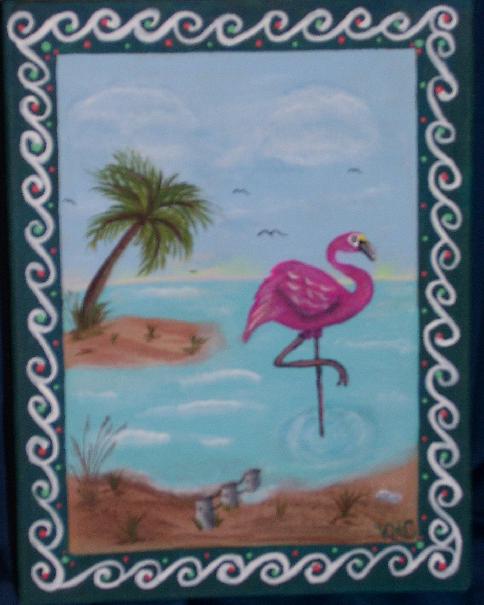 Wear your favorite tropical shirt, pack a Polynesian lunch or do whatever you want that will get you into the spirit of the program. This program should be lots of fun & there will be a few surprises for those of you who are painting with me on August 11th. Hope to see you there. Call me if you have any questions about the project. If you are not going to be at the meeting in July but want to paint the August program let me know so I can set aside a pattern for you. (Prep can be done the day of the meeting if needed)
You may contact Karen at 941-743-2794 or by e mail at rockycat54@yahoo.com put DASF in the subject
Return to Home Page
Cocomo