DASF August 2009 Project
"Little Bo Sheep"
Project designed by Maxine Thomas
Taught by Karen Close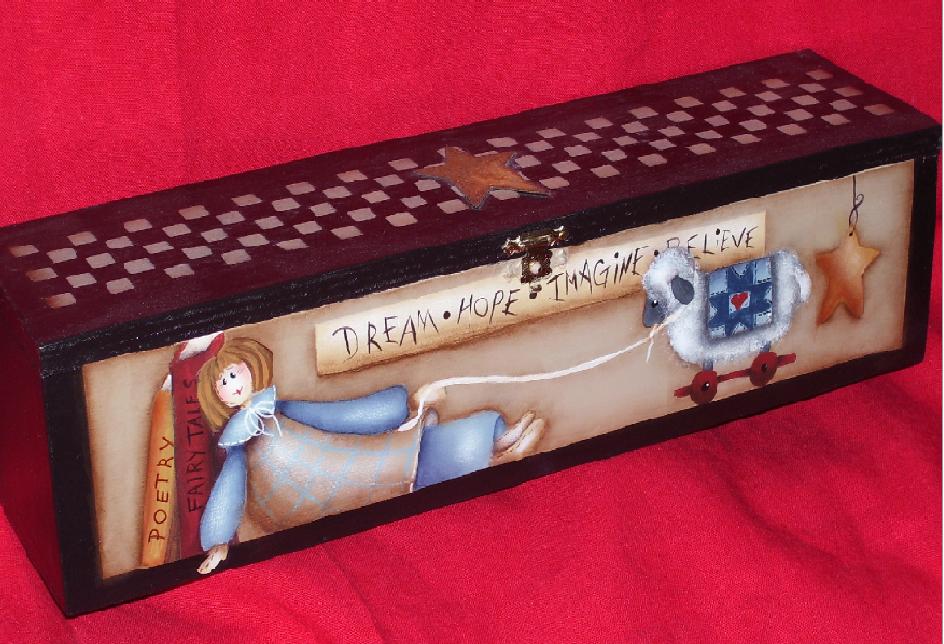 Beginner to Intermediate Class
Lesson Objectives: To learn how to us Maxine's Mop brushes with floating & the Crescent brush for highlighting areas, as well as general painting techniques & finishing your project with a vintage look.
SUPPLIES:
PALETTE: DecoArt Americana Paint
Snow White, Light French Blue, Soft Black, Light Buttermilk, Milk Chocolate, Deep Midnight Blue, Antique White, Dark Chocolate, Payne's Gray, Khaki Tan, Honey Brown, Neutral Gray, Heritage Brick, Burnt Sienna, Graphite, Marigold, Lamp Black, Black Plum
Surface:
Wood Candle Box, 13" X 3¼" X 3¼" or any other surface you wish*
Brushes:
Crescent Brush Size 3/8" or smaller & Maxine's Mop Size ½" or smaller (depends on size of surface you use but for this size candle box use sizes listed). I recommend using the largest Angle or Shader you can handle to float. For this project I use a ½" angle & you will need a Flat #8 & Liner 10/0. These are just recommendations. Bring & use whatever you like & are comfortable with. Any dry brush can substitute for the Crescent brush & also you can use whatever mop you have. Keep in mind if you use a larger surface you will need to have larger size brushes for your project. If you want to purchase these brushes, go to Maxine's web site www.countryprimitives.net
Other Supplies:
Any brand of wood surface sealer, graphite paper, tracing paper, stylus, paper towels, water basin, palette paper, glue, varnish of choice, sand paper/paper bag, checkerboard stencil (optional, see below), Masterson wet palette *is preferred but use what you like.
* You can make a wet palette with a Styrofoam plate or tray, paper towels & deli paper. Place towels in bottom of Styrofoam plate/tray & wet them fairly damp; then cover with deli paper; smooth out & use to keep paint fresh. Cover when not using.
PREP for Candle Box*
Sand and seal wood piece. Use brown paper bag to sand wood to a smooth finish. Basecoat design area Khaki Tan. Basecoat the remaining box (top, sides, & bottom) in Lamp Black, being careful around the fixtures on the box. You could paint a coat of varnish on them to protect the fixtures while you are painting. (Please note you can stencil or basecoat checks on the top of the box with Khaki Tan at home before project is complete or after we complete it in class). Transfer main pattern lines and basecoat the following:
Antique White: Sign, doll's face, hands, & feet. Heritage Brick: Tall book's spine (side behind doll – Black Plum) and sheep's base/wheels. Honey Brown: Short Book and star Light Buttermilk: Inside pages of books. Light French Blue: Doll's dress and sheep's quilt (painted patches – Deep Midnight Blue, Heart-Heritage Brick). Khaki Tan: Apron (liner detail-Light French Blue). Neutral Gray: Stipple sheep (Face, ear/legs-Graphite) We will paint doll hair in class.
Be sure all of your prep is complete prior to class so we can finish the project.
* If you are using another surface other than the candle box your surface prep may not include all of the instructions. If you are painting on a tray for instance you might want to only paint Lamp Black around the bottom & sides as well as top edge but use the Khaki Tan for the top of the tray. You may also need to resize your pattern to fit your surface.
Found checkerboard stencil at: http://stencils4u.com/catalog/cherries.html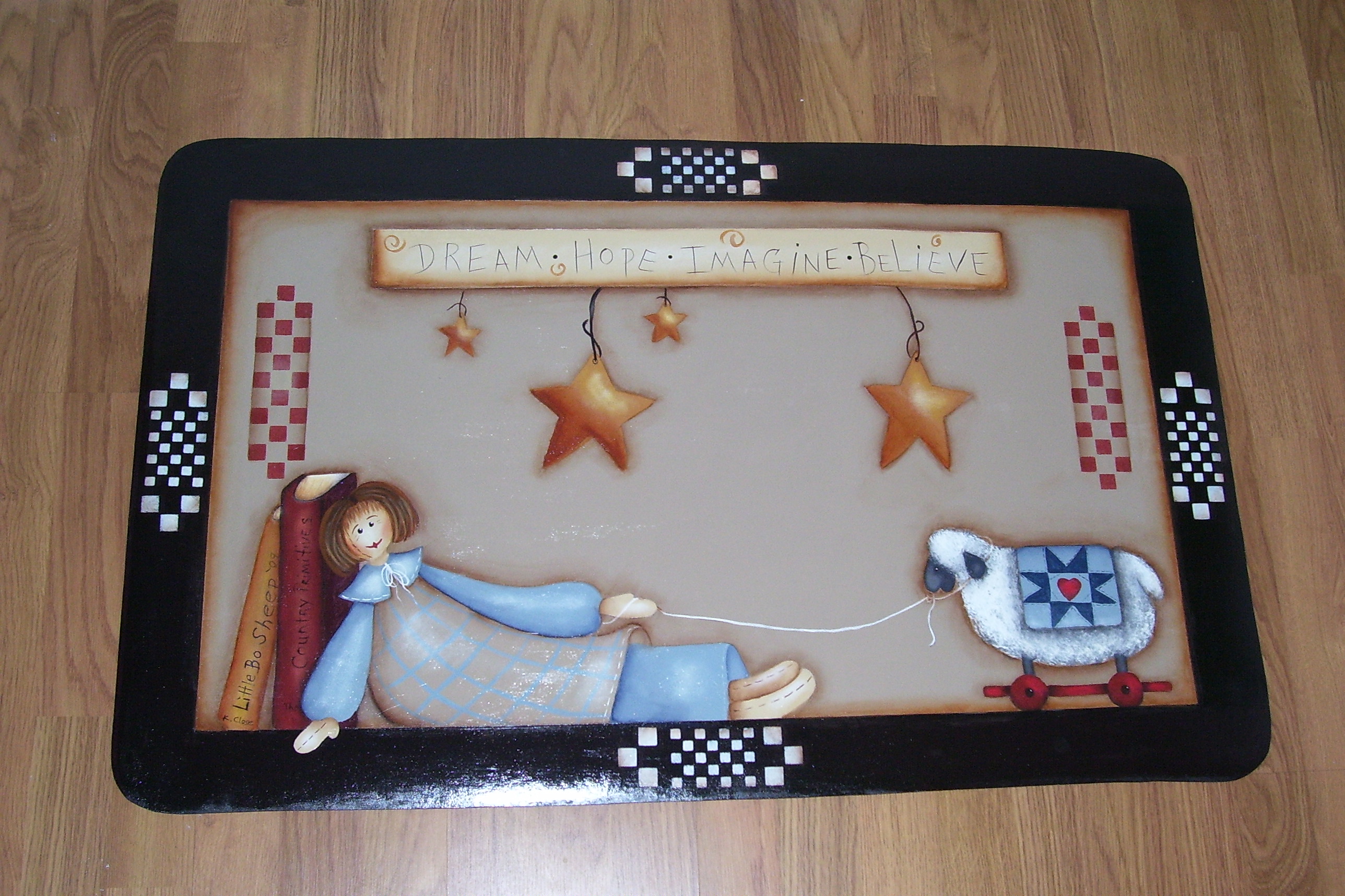 Return to Home Page