"
August Program

Joyce Kostelak will be teaching "Schultz, The Noble Macaw" in ink and watercolor.

It is adapted from Sherry Nelson's "From Palette to Parrot."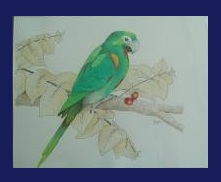 Supplies needed include 1/4 sheet 140 lb cold press Arches watercolor paper (11 x 15"), Micron Pigma permanent black pen Size 01, graphite transfer paper, stylus, masking tape, white plastic eraser, paper towels, brush basin or two containers for water, large flat watercolor palette or two old china plates. Watercolor paints: raw sienna, burnt umber, cadmium red light, cadmium yellow medium, paynes grey, hookers green deep and white gouache. Brushes: Size 6 round and a liner. Pattern packets with photo, pattern and instructions will be available for $5, paper, $1.50, and paints, $3.50. If you will need any of these, please let Joyce know at 239-656-0660 or jkostelak@aol.com.
Return to homepage