June 2009 Program

Winter Luncheon Gifts & Treasures Tables Paint In

With Mary Koscki & Jenne Williams


Bring in any surface or pattern and paints you would like to use. Suggestions are tree ornaments, trinket boxes like note paper or sticky notes boxes, decorate a soap dispenser or soaps in a holiday motif. You may like to bring in and paint holiday salt and pepper shakers, utensil or napkin holders or napkin rings. How about a holiday apron , candle stick, votive candles holders or similar item. Everything does not have to be Chistmas related, items such as the Jolly Chef motif and palm trees were request in the past. You may choose to paint a tee shirt or a bangle bracelet or a pin. Use your imagination and help to create some lovely items for the sale. We will have some items available and some patterns for your use. If you wish when done, wrap them beautifully and they'll be perfect gifts for teachers, hairdressers, neighbors or a friend. This should be a fun and rewarding day with lots of interesting items painted while enjoying the company of your DASF friends. Lets help make this years Gifts and Treasures table a huge success.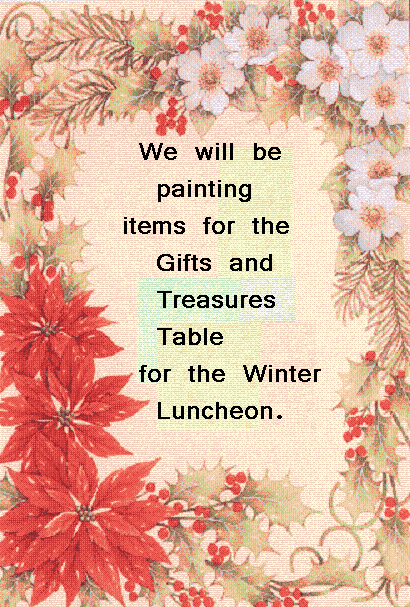 Return to Home Page