September 2009 Program
My Little Mermaid
Taught by Judith MacLaren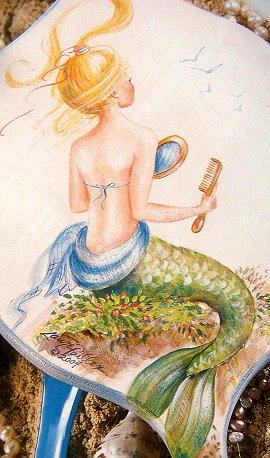 This program is from a Laure Paillex pattern Judy found in a magazine.. She has adapted it a bit and has painted hers on a wooden paddle.
SUPPLIES & PREPARATION
Surface
1-I used a wooden paddle from one of the local craft stores (6*x12* painting area). I thinned white paint with water and *white washed* it. I have also painted this on a wooden hand mirror. (5*x 5*), but it is easier on the bigger surface. Pick any surface on which you would like to paint and prepare it before class.
Paints
2- any color pink, white, light flesh, medium flesh, yellow ocre, straw, burnt sienna, paynes gray, FOLK ART metallic paint-blue sapphire and aquarmarine OR ANY COLORS YOU LIKE. If you cannot find the metallic paint you may sparkle it up by using DECO ART TWINKLES
Brushes
3- your favorite brushes including a flat or angle, rake brush, small rounds and liner
Supplies
4- also your usual painting supplies including transfer and tracing paper.
Added by Judy on July 25, 2009
"Because so many people are having a hard time getting food I am asking you to bring a jar of peanut butter and a Kraft Macaroni & Cheese dinner OR $5.00,for the food pantry in Cape Coral. Thank you for your generosity in this matter. Judith MacLaren"
Return to Home Page