January's program by Janet Moss
Flowers and or Butterfly or Hummingbird on Cloth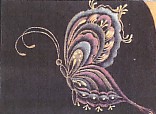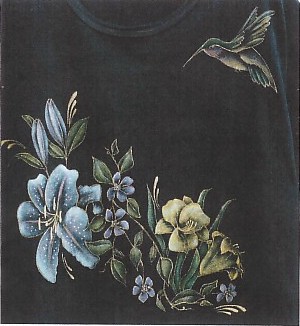 Supplies needed:
1. T-shirt, cotton blouse, jacket, bag, sun visor, etc. Dark colors are best. The fabric needs to be washed with no softener added. Dry it smooth.
2. Brushes: liner, flat brushes #4, 6, 8, small round, whatever works for you on fabric.
3. Plastic item or cardboard to place inside the item for protection on back side.
4. White chalk pencil (Fasination works well) or transfer pen (sulky) to place on back of tracing paper.
5. Fabric paint or acrylics with textile medium: colors: white, blue, pink, green, yellow, purple.
6. Gold or silver to use around and on extra design.
7. Can bring a medium color and then lighten it up when adding white or what other level of paints. Janet will also be bringing some paints and a few of all supplies.
OPTION Metallic pen(Not Krylon) or fine tip market - gold or silver - it stays permanent and waterproof on the item.
8. Regular painting supplies.

Return To HomePage