November Program with Karen Close
ROSEBUDS & BUTTERFLY
Painting on Rice Paper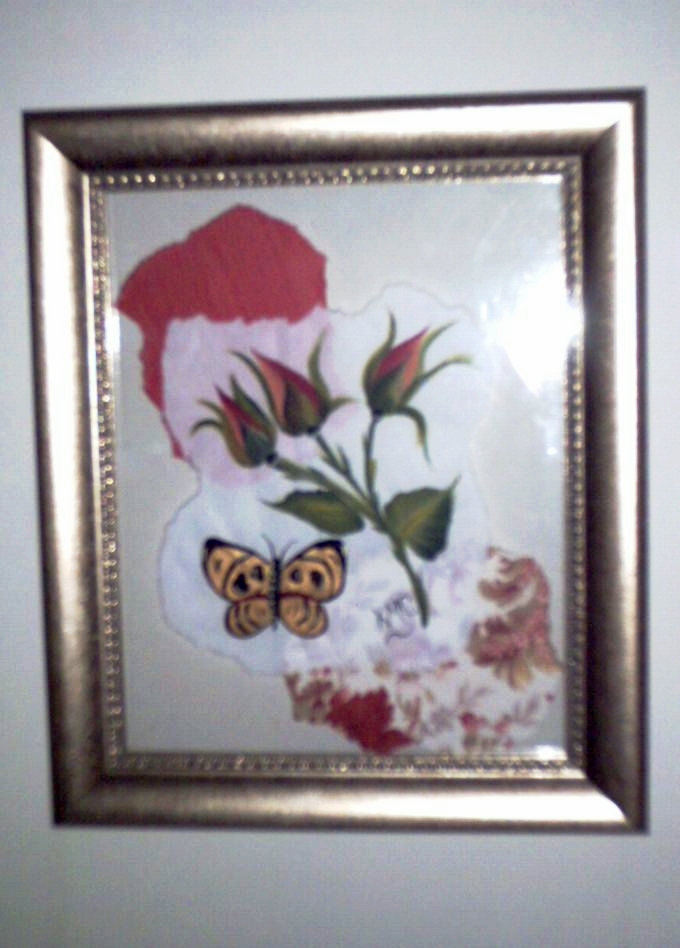 The November project is from the book "Framed Art" by Donna Dewberry & is a fun project for everyone from beginners to advanced.
The piece is called " ROSEBUDS & BUTTERFLY" and since there is no preparation required for the project you will not need your project kit until the Nov. meeting. Karen will be selling the kits containing one 6" x 8" piece of rice paper, 2 contrasting scrapbook page pieces, both 4" x 5", instructions, pattern, & 1 color photo for $3. She is asking that all members who plan on attending the Nov. meeting & who want to do the project to RSVP to her at the Oct. 8th meeting or email her at kmclose1954@earthlink.net or call 941-743-2794 to reserve your kit. The last day to reserve your kit will be Nov. 10th so she can have enough kits prepared for all who are attending on November 12th.
You will need to bring the following:
water basin
paper towels
stylist
gray graphite paper
brushes ( FOR SURE YOU WILL NEED THESE #2,#8, & #10 flat - #1 & #2 script liners or 10/0 liner - #2 round or filbert)
metal ruler
utility knife
double stick tape
1-8" X 10" Frame; can be regular or Floating Frame. NOTE: If you choose to use a regular style frame with a backing in it you will need to purchase 2 styrene blank sheets (Gallery Glass Pack of 2 @ Michael's is $2.99) Karen will show you how to assemble the frame after we have finished painting the project.
The rosebuds are a Coral Red/yellow color & these paints are based on that color combination.
Notice, Plaid has supplied the following colored Folk Art paints for this program. Karen will have them with her at the meeting.
Folk Art colors: Engine Red, Berry Wine, Thicket, Licorice, Wicker White, Yellow Light or SunFlower, Metallic Gold or Silver
Deco Art colors: Cadmium Red, Deep Burgundy, Lemon Yellow, Avocado, White, Black, Metallic Gold or Silver
Delta colors: Napthol Red Light, Barn Red or Black Cherry, Forest Green, Luscious Lemon, Black, White, Metallic Gold or Silver
Song...Paper Roses
Return to Home Page